Fishing for a Future
25.05.12 Back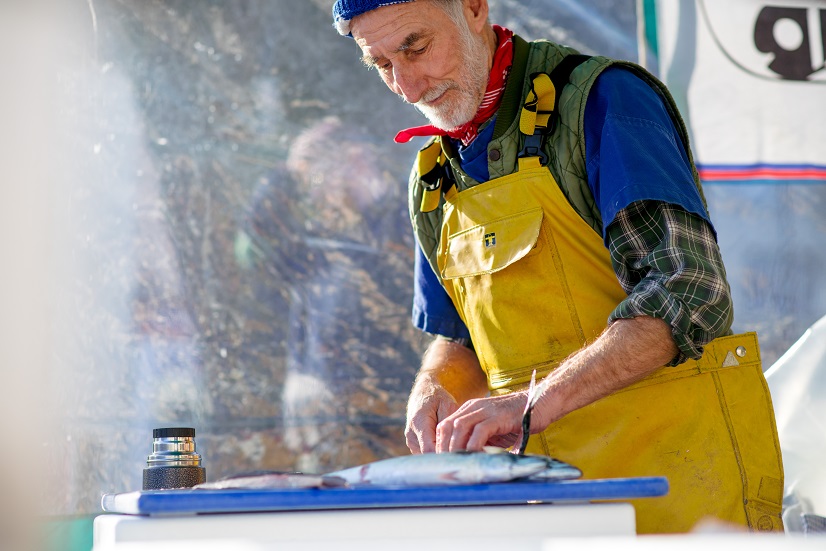 Two fishermen: Cornish professional Chris Bean and Jersey amateur (but professional restaurateur) Dominic Jones give their thoughts about the way forward for the Island's fishing industry
Fishy place, Jersey – and that's not a slur on the offshore tax status of the island, but a statement of fact. Jersey is an island and all sorts of fish swim by it. The waters of Jersey are rich and could provide rich pickings for fishermen. But up to 90 per cent of fish on sale in Jersey are imported.
Dominic Jones of JPRestaurants – the company that owns, among other catering outlets, the Oyster Box and Jersey Crab Shack restaurants in St Brelade's Bay – observed: 'Over the last year we have had 26 different species landed to our kitchens but struggle to source enough local sustainably caught fish even though it is in the sea surrounding our island. But the "big four" that we buy most regularly from our fishmongers are cod, tuna, salmon and prawn. They make up half the volume of our fish purchases. Yet local fish is out there, and we can't get enough of it.
'There is an education problem that needs to be addressed, both by government, fishmongers, restaurants, local fishermen and especially by consumers some of whom still demand the big four of cod, tuna, salmon and prawn, none of which are found in our local waters. We need more knowledge of the lesser species that are out there in such abundance and can taste so good, but we also need to look at different approaches to supporting our more "quality consciousness" by the local fishing industry. fleet on how best to catch, preserve and sell them on.'
He continued: 'Pollock, mackerel and bream, for example, taste great, and the seas are crawling with them just some four miles off-shore. They are not expensive for the consumer, and a fisherman does not need an expensive boat that burns a lot of fuel but they do need to ensure they land top quality fish to us to justify consumers paying a value-added price that would in turn encourage them to fish for them and help address the multitude of the challenges we face in getting more local fish on our tables.'
Dominic was in conversation together with a guest from Cornwall, Chris Bean, who has the good fortune to live near and to fish from the beautiful Helford Estuary. JPRestaurants had invited Chris to the Island for May's Jersey Food Festival, and also to speak at one of the festival functions, a sustainable fish dinner held at Jersey Crab Shack. His theme was his own business model, which has proved very successful for him, and how this might be applied to Jersey's own fishery industry.
He described his own business: 'We are a small family company – my son and I, and our wives. My daughter crews on the boat for half the year. Half a dozen boats land to us. We process some fish into fillets, and other fish we sell as whole fish to restaurants, both local and London outlets.
'It is a vertically integrated business – and we handle everything from catching the fish to transporting it to London and selling it to chefs in the capital's famous restaurants. So we are both fishermen and fishmongers.
'Our fishing methods are dictated by our marketing strategy – we try to supply our outlets – mainly restaurants – with fish every day of the week, whatever the state of the tide and the weather. We have a market for everything we catch. Nothing is wasted – I'm not going to throw a fish dead over the side for any reason, unless the government instruct me to do so because the quota is exhausted.'
Chris's son is sending e-mails and twitter messages to chefs in London before the boats even land, so the chefs are thinking already about the next day's menu – he says that communication between fishermen and chefs is the key, and so is presenting the produce to them in top condition.
'The way forward for the fishing industry anywhere is to add value, keep a low carbon footprint – and not to burn endless amounts of diesel; to use family labour as much as possible, spread the work around and don't be afraid to pay half-way decent wages, because the money will come back in.'
Cornwall and the UK is like Jersey to the extent that the 'big four' of fish produce have a commanding share of the market, yet, as Chris explained, there is so much more available in local waters: haddock, whiting, red mullet, pollock, scab, mackerel and gurney…. Then there is sole – Dover and lemon – plaice, brill, turbot and ray. In the nets also come monk fish, and a lot of crab, which equates to 30 per cent of the catch.
He continued: 'We classify ourselves as survivors, because so much of the industry is just not there any more. We have had to adapt – by adding value we are making better money than we've ever made. There are ten people on the site who are not family members, earning a living as well as us four – that's 14 jobs from our input into a little local rural economy, which is certainly above average.'
Chris does not have what one might think of as being a typical fisherman's background: his father was a cabinet-maker and his mother a teacher; he went to college and gained an engineering degree. However, fishing had always been a passion: he'd built his own small boat aged 11 for fishing for bass, and after gaining his degree he went into fishing in 1969. He bought his first boat two years later – and still uses it.
Later he spent some years working for the United Nations in the Middle East, setting up fishing co-operatives down the Red Sea Coast and in Sudan.
As a business, his emphasis is on sustainable and locally caught seafood – hence the synergy with Jersey.
Dominic said: 'Cornwall and Jersey have a very similar fishery in terms of the species and what we do with them. There's a shortage of local fish in the Island. There could be more, but the premium price is not being paid for it. Chris adds value, adding value to cheap and often disregarded fish species.
'For example, we've got masses of black bream available in local waters, which is not being caught – by us. The French catch a lot, while we import gilt-head bream and other fish. In many ways it is just like growing agricultural produce for export, and importing the same produce to eat in the Island.'
Mackerel and ray were other examples of fish commonly disregarded, but which tasted wonderful when in good condition and are very popular when served up in a restaurant.
As he said: 'It shows that with education, customers are happy to eat fish that local fishermen tend to neglect.
'Think twice, and fish- and eat – local.'