History of JPRestaurants
11.11.16 Back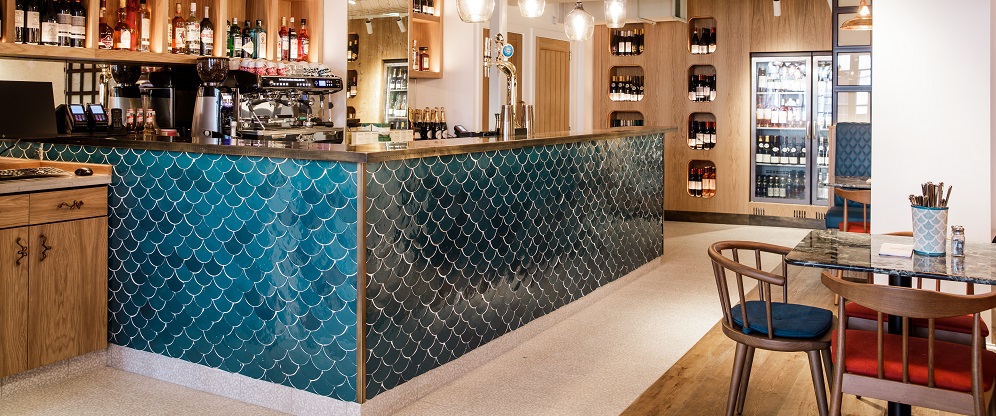 As we celebrate 70 years of our sister company this November, we're taking a look back at the history of JPRestaurants.
1960s
Although Jersey Pottery was established in 1946, it wasn't until the early 1960s that the beginnings of popular Jersey restaurant group JPRestaurants emerged. A small coffee bar was opened in the pottery gardens to provide much-needed light refreshments to visitors to the site in Gorey. At the time, a few snacks and coffee were all that was on offer and probably all that was expected by the visitors of the day. There was outside seating for 100 people, but if it rained, you got wet and so did your food!
1970s
Nonetheless, this arrangement continued until the 1970s, by which time it had become impossible to cater adequately for the increasing numbers of visitors. As part of a major redevelopment programme, a new dining area was created which provided seating for 500 people, of which 250 seats were under cover.
Although there were still no cooking facilities, the restaurant built its reputation on exceptional cold dishes perfect for summer dining in Jersey, most of which consisted of local seafood with accompanying salads. Freshly made sandwiches, cakes and fresh fruit including Jersey strawberries were always available too. The combination of expertly prepared and presented food with the beautiful garden setting proved quite irresistible to both holidaymakers and Islanders and it was not long before the restaurant received a number of recommendations from the Gourmet press.
1980s
The restaurant had become one of "the" places to eat in Jersey, and when the Queen and Duke of Edinburgh visited the Island in 1989, it was no surprise that it was chosen to host a luncheon for the Royal party. One of the family owners and directors of JPRestaurants oversaw the arrangements for this prestigious event and the experience he had gained from working at five star hotels in London had given him the perfect grounding for this, and for the subsequent catering developments that were soon to take place.
1990s
In 1990, another, but this time total redevelopment of the Pottery resulted in a much enlarged restaurant which allowed a full range of services to be offered from à la carte in the Garden Restaurant to an assisted service in a Brasserie section. A new building housed kitchens so at last, a wide selection of hot dishes could complement the already famous menu of seafood and salads. As before, with only the best ingredients being used, eight chefs were now required to create yet more delicious dishes. The dining complex also included Spinnakers Bar and Grill (originally the Brasserie) which adjoined the Garden Restaurant. Surprisingly, despite demand, and being Michelin, AA and Egon Ronay recommended, the restaurant continued for several more years with its policy of opening only at lunchtimes and not on Sundays. Currently all four of our restaurants still appear in the Michelin guide.
No longer in operation today, "Outside", an aptly named catering service provided the pleasures and delights of the restaurants to be enjoyed by people celebrating weddings, birthdays and other events in their own homes or at other venues and locations. The first of the JPRestaurant group cafés (now Café Ubé) opened at a similar time in Bond Street and Colomberie and acted as an outlet for customers to place orders for "Outside".
2000s & Present Day
2001 saw the opening of Spinnakers Café in Admiral Park shopping complex and Checkers Superstore, Guernsey – a first foray away from Jersey. Next to open was the Gastro Pub (now the Jersey Crab Shack) at the Castle Green, Gorey which served excellent food and was incredibly popular. In 2007, the JPRestaurants group took over the Board Walk Café in St. Brelade to create the Oyster Box, which offers chic-casual dining in a stylish, elegant environment at the edge of the sea. Another café was also opened at Liberation Bus Station (formerly the Connex Bus Station).
Jersey Crab Shack St. Brelade opened in 2009 and along with Gorey, provides a relaxed and informal setting to enjoy great food and wonderful wines, beers and other hard and soft drinks. We are pleased to announce that summer 2017 will see the opening of a third Jersey Crab Shack in St. Helier.
In 2010, the difficult decision to move from the Gorey site was made. However, with the restaurant business already operating from multiple sites around the Island, this had little impact on our restaurants and cafés in Jersey.
In 2012, JPRestaurants opened Banjo, a European-style grand brasserie located next to the Market in a restored 10,000 sq ft former Victorian Gentlemen's Club. The Dining Room and Brasserie, each with their own individual style, offer lunch and dinner for up to 120 people. The design of Banjo is inspired by some of the most stunning urban brasseries and bars from around the world whilst retaining the best features of 8 Beresford Street, a historic St. Helier building that was purpose-built for entertaining. It has become a key part of St. Helier and Jersey's dining scene and is a popular town location to meet for coffee, lunch, dinner, drinks and cocktails.
2016 saw the re-branding of the cafés to Café Ubé. Operating from three St. Helier locations, King Street, Colomberie and Liberation Station, Café Ubé offers a wide variety of homemade soups, hot food such as wraps, sandwiches, salads, freshly-blended juices and more. The 1,000 people that visit us every day value that our food is made freshly each day in Jersey and not full of long-life ingredients.
Our story hasn't ended and we look forward to continuing our focus on providing locals and visitors with wonderful places to eat and drink in Jersey over the years to come.