Jersey Oysters at JPRestaurants
14.09.17 Back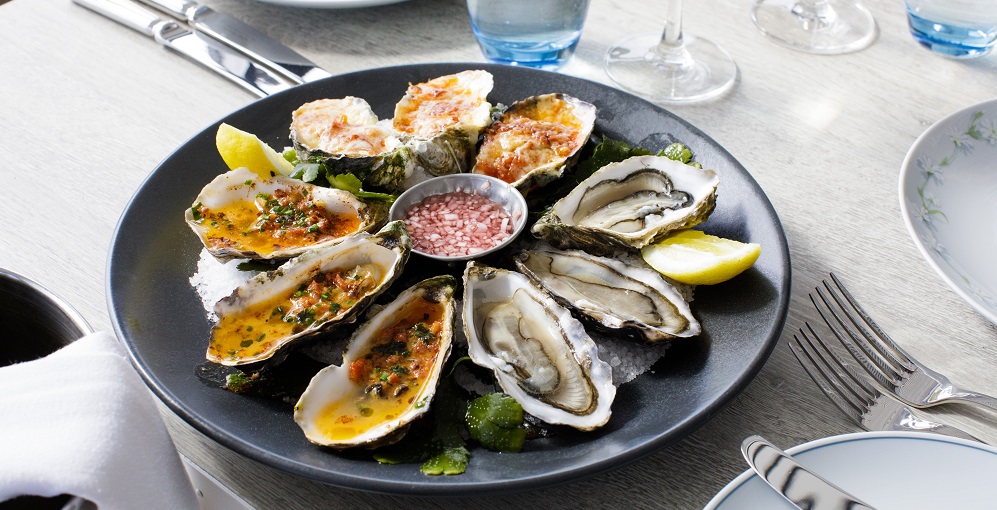 JPRestaurants has been serving oysters since the 1970s and since then we have served millions of oysters from Jersey's Royal Bay of Grouville. We are one of the most popular places to eat oysters, shellfish and seafood in Jersey and the Channel Islands.
Renowned for local seafood since opening our first Jersey restaurant in 1970, our four Jersey restaurants, Oyster Box, Banjo and the two Jersey Crab Shacks in St Brelade and Gorey now serve over 80,000 oysters a year. Whilst the traditional version of six or nine Jersey Rock Oysters on ice with shallot vinegar and lemon are still the most popular, we serve them six different ways at the eponymous Oyster Box and always have oyster dishes at our other three St. Helier, Gorey and St. Brelade restaurants.
– Shallot vinegar / served on ice £9.50 for 6 / £14.25 for 9
– Spicy Virgin Mary / celery / served on ice  £9.50 for 6 / £14.65 for 9
– Japanese yuzu and pickled vegetables / coriander / served on ice £9.50 for 6 / £14.65 for 9
– Oyster plate / 2 plain oysters served with shallot vinegar / 2 spicy Virgin Mary oysters / Japanese yuzu oysters / shell on prawns 100g / Marie Rose sauce £14.50
– Kenney-Herbert / Worcestershire sauce / bacon / tomato / Gruyère cheese  £10.50 for 6 / £15.75 for 9
– Champagne butter sauce £10.25 for 6
Jersey Oysters are harvested from the sparkling clean waters of the Royal Bay of Grouville, a wetland site designated under the RAMSAR convention as a site of international importance. The Bay also has the highest standard classification from the Marine Conservation Society so you can be assured that the Jersey Rock Oysters we serve are fresh, clean and healthy.
With modern cultivation, harvesting and distribution methods and Jersey Oysters served by JPRestaurants are delicious all the year round but the month of September, the traditional start to the season when there is an "R" in the month, is an extra special time to enjoy them. Jersey oysters are enhanced by a wonderful dry wine such as Muscadet or crisp Phylika, a special vermentino from Poggiorosso imported exclusively by JPRestaurants from Maremma in Tuscany from the same location we source our olive oil.
For bookings and menus please visit our homepage.