Using Tech for Good
03.11.21 Back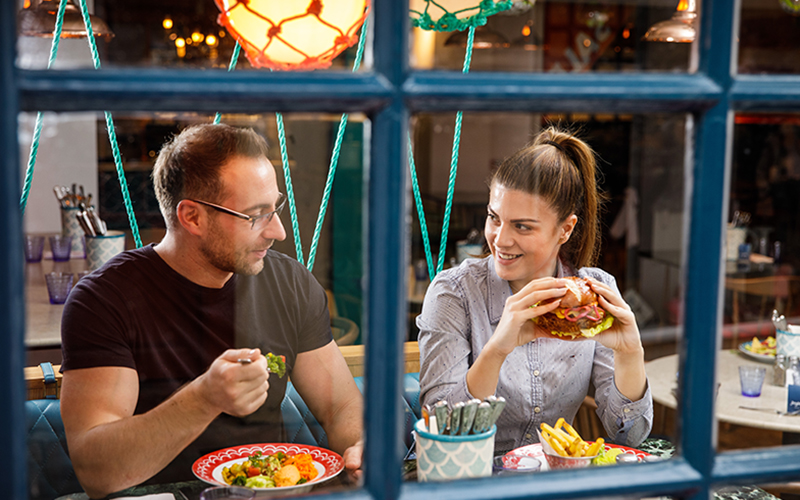 Becoming better for customers, better for our team, and better as a business with the help of modern technology.
In our connected society, we're used to having everything at our fingertips: information, news, updates, and services are just a click or a tap away. Convenience is king, and adapting the customer experience offer to reflect this demand for 24/7 availability is crucial.
Across the corporate world, businesses have adapted to fit into this tech-driven fast-paced lifestyle: from online shopping to booking flights, tasks that would once have required a trip out the house or a lengthy phone call now require only a few seconds and a smartphone.
Hospitality is no exception to this, and at JPRestaurants, we do our best to stay ahead of the curve. Whether it's booking a table or a room; finding menus and allergen information; the option but not the obligation to order a drink to your table or pay your bill with a few clicks without waiting for the credit card machine; or placing an order to Click & Collect: tech is now incorporated at every step of our customer journey, aiming to make things as smooth and as quick as possible for the modern-day customer.
Of course, making things easier is only one of the benefits of technology – and while tech is certainly important in that respect, for the hospitality industry, it can also be a key driver in operating sustainably and facilitating ethical business practices. By embracing tech, hospitality businesses can increase automation, cutting back on unnecessary costs and allowing the investment necessary to behave responsibly; something that can't easily be achieved in a price sensitive industry with tight margins.
Most of us would (hopefully) agree that ethical business practices are extremely important. In today's 'woke' society, more and more of us are putting emphasis on our values and on what we think we should value as a society: whether it's fighting injustices, protecting our environment, or promoting tolerance and equality. Customers think more about the businesses they interact with – caring more about where their food comes from, what they buy, and the implications of the goods and services that they use.
Factors that once weren't a second thought are now at the forefront of customers' minds when choosing the brands they'll buy from, and there's pressure on businesses to prove that they care and that they're taking action. A commitment to ethics and sustainability can't just be a fuzzy PR statement on the company website anymore: there's a real challenge to do the right thing, and businesses that fail to do so risk being held accountable.
At JPRestaurants, we've always been committed to operating ethically. As a Jersey business that's been running here for 75 years, we care deeply about our Island, its community, and the Jersey hospitality industry in which we operate. We're passionate about seeing an efficient and customer focused offer in Jersey, enabling hospitality businesses to invest and provide not only a better more sustainable experience for locals and
visitors, but also enhanced working conditions and long-term career paths for islanders. Technology, we believe, is the main way of unlocking this.
In every area of our business, we're using tech to improve efficiency and enhance productivity – from purchasing and stock management, reservations and capacity management, recruitment and rotas to customer experience, feedback, marketing and business intelligence reporting.
Enhanced automation and efficiency across every sector has given us the ability to invest in the things we care about, like investing in kitchens using carbon-neutral power; ethical sourcing of high quality ingredients; involvement in local charitable initiatives and becoming an accredited Living Wage employer. Through tech, giving back to our island community has become more possible, helping us to ensure a more sustainable environment for everyone.
First published in the Jersey Good Business Charter 2021 Report: A Good Walk – Mapping out the current landscape of Sustainability, Ethics and Good Business in Jersey